POLICY UPDATES
from Alabama Rivers Alliance

As 2022 comes to a close, I'm reflecting on the crucial river advocacy work we've done with our partners this year and pausing to give you some updates on our policy efforts from the past few months. Fall and winter of 2022 have kept clean water advocates on their toes, celebrating the 50th anniversary of the Clean Water Act while also watching as the US Supreme Court heard arguments in a case that could threaten the Act's applicability to our wetlands. As you may have read in Cindy's end-of-year letter, it can feel like with each step forward comes another challenge.

Looking to 2023, we will have more than 25% freshman lawmakers in Alabama's legislature next year, meaning we collectively have a lot of work to do getting lawmakers up to speed on the threats facing our rivers, streams, bays, lakes, creeks, wetlands, and the people who depend on them. The time to get to know your legislators is NOW, before the session starts in March, so we're asking you to give Alabama's waters a small holiday present—take a moment right now to reach out to your state representative and senator and introduce yourself, ask to meet with them in January, and tell them how you care about Alabama's waters and want to see them protected and restored. Click here to find out who represents you, then click here to find their contact information.
Along with our Alliance partners and members like you, we will continue standing up for clean water in the State House next year. Stay tuned to our emails early next year as we update you during the legislative session. We'll have more ways for you to take action and help us #DefendRivers throughout Alabama!
Rest up during the holidays because we have work to do together in 2023!
–Jack West, Policy and Advocacy Director
METHANE EMISSIONS FROM HYDROPOWER RESERVOIRS
In October, ARA partnered with PhD students at the Virginia Scientist Community Interface (VSCI) and released modeling results showing that two hydropower reservoirs operated by Alabama Power are significant sources of greenhouse gas emissions, particularly methane emissions. You can learn more about this issue, the science of reservoir emissions, the modeling tool used, and view VSCI's overview report and underlying data by clicking here.
Watch the Water is Life: Methane Emissions from Hydropower Reservoirs Zoom Talk with American Rivers and VSCI by clicking here.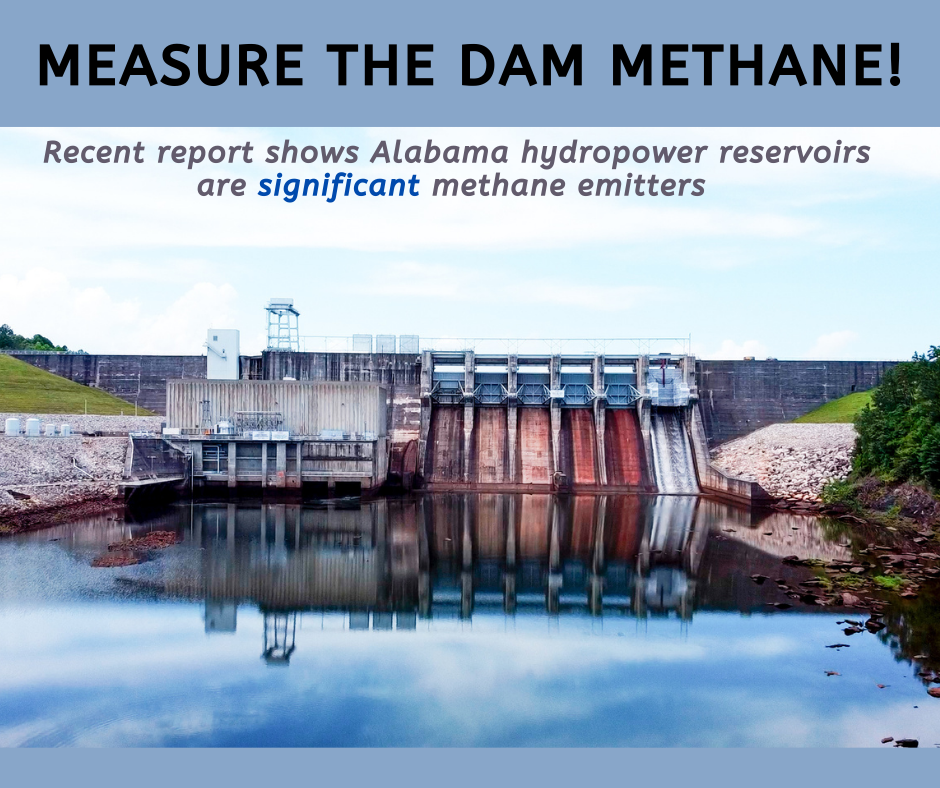 Because so many of our members - like you - took action and asked Southern Company to measure its reservoir methane emissions, the company responded! We will meet with senior representatives from Southern Company in January to hear what steps the company is taking to evaluate greenhouse gas emissions from its reservoirs. Despite clear scientific research demonstrating the significance of these emissions and our modeling of specific Alabama reservoirs, Southern Company still counts its hydropower as "zero carbon resources" in the company's net-zero planning. Thank you for taking action and helping us get the utility's attention!
Earlier this month, staff from ARA and Coosa Riverkeeper met with ADEM representatives to discuss the fish tissue monitoring program conducted by ADEM and the fish consumption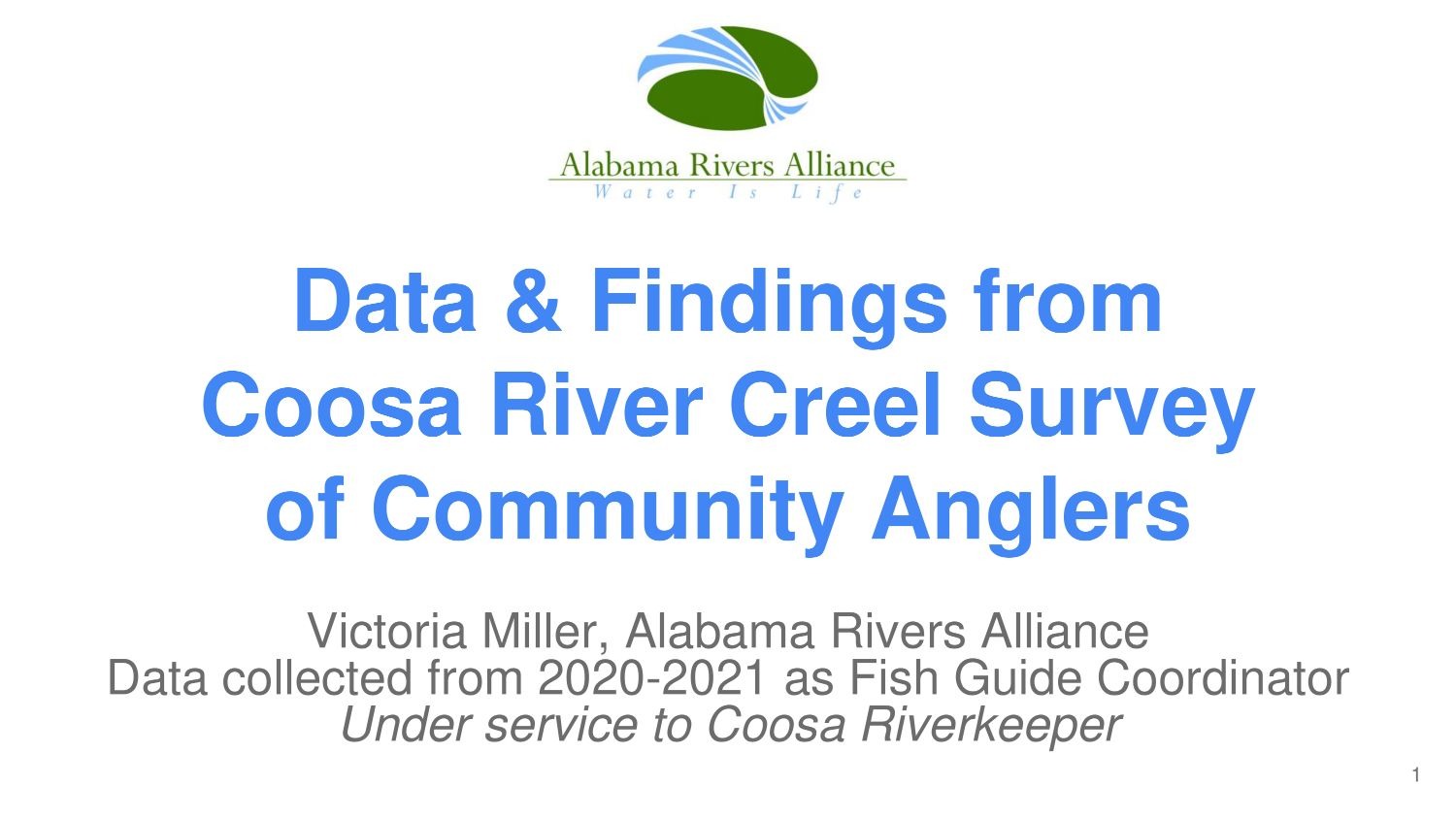 advisories issued by the Alabama Department of Public Health. We toured ADEM's lab facilities, asked questions about how the program is currently operated, and offered suggestions for strengthening the program, especially with outreach to the public to make this important health information more accessible for all.
At the December meeting of the Environmental Management Commission, the seven-member body responsible for overseeing ADEM, Coosa Riverkeeper's Justinn Overton and ARA's own Victoria Miller presented creel survey data of anglers on the Coosa River, which shows that the important information of the fish consumption advisories is not making it to the subsistence fishers who are most at risk of eating and sharing contaminated fish with their families.
ARA and our partners continue the work to make the fish consumption advisories more accessible to the public by supporting a toll-free hotline in both English and Spanish where callers can hear the advisories on their local waterbody, posting signage at public boat ramps, sharing A Fisher's Right to Know, the award-winning short documentary from Southern Exposure exploring this topic, and engaging state agencies and legislators. To learn more, click here.
WATER INFRASTRUCTURE FUNDING & ADVOCACY
The federal Infrastructure Investment and Jobs Act (also called the "Bipartisan Infrastructure Law") is bringing historic amounts of funding for drinking water and wastewater infrastructure to Alabama through the State Revolving Fund programs administered by ADEM. ARA has been working with our partners to ensure these funds first go to the communities that most desperately need water infrastructure improvements.
In September, we submitted comments written in collaboration with 12 partner groups on the set of Intended Use Plans published by ADEM each year that stipulate which water infrastructure projects the Department intends to fund. After receiving less-than-satisfactory responses from ADEM, we met with EPA Region 4 in November to voice our recommendations for improvements to the administration of the SRF programs in Alabama. You can view our comments, ADEM's response, and our letter to EPA Region 4 by clicking here. We are continuing to engage with ADEM to provide public input on how the Department ranks applications and decides which projects get funded.
In order to better understand the unique challenges of decentralized wastewater systems, ARA staff toured a decentralized wastewater plant run by South Alabama Utilities in November. We have also become a member of the Consortium for Alabama Rural Water and Wastewater Management, an informal partnership of industry, government, and non-government organizations coordinating efforts to resolve water and wastewater sanitation issues for rural Alabama, particularly focusing on the Black Belt area. We will continue to meet with these partners to further discuss how ARA can work alongside community members around wastewater outreach, education, and engagement in the Black Belt.
ALABAMA RIVER FISH PASSAGE STUDY
The US Army Corps of Engineers is currently conducting a feasibility study to examine how to provide fish passage around its Claiborne and Millers Ferry locks and dams on the Alabama River. Creating permanent fish passage around these dams, or removing them altogether and thereby reconnecting the Cahaba River to the Gulf of Mexico, would be a monumental ecological achievement and would help restore some of the most aquatically biodiverse waters in the nation. The Nature Conservancy in Alabama is providing the non-federal matching funds for this important feasibility study, and you can read more from TNC about the project here. Also check out Southern Science's River, Interrupted article quoting ARA's Cindy Lowry.
We will be participating as a stakeholder in the fish passage study with the Corps of Engineers in 2023. Last month we sent the agency a letter urging it to study the full range of alternatives available, including removal or partial removal of the lock and dam systems. Click here to read our letter.

WILD & SCENIC DESIGNATION FOR LITTLE RIVER
Over the past six months, we have made more progress in the campaign with Little River Waterkeeper to study and potentially designate Little River as a national Wild and Scenic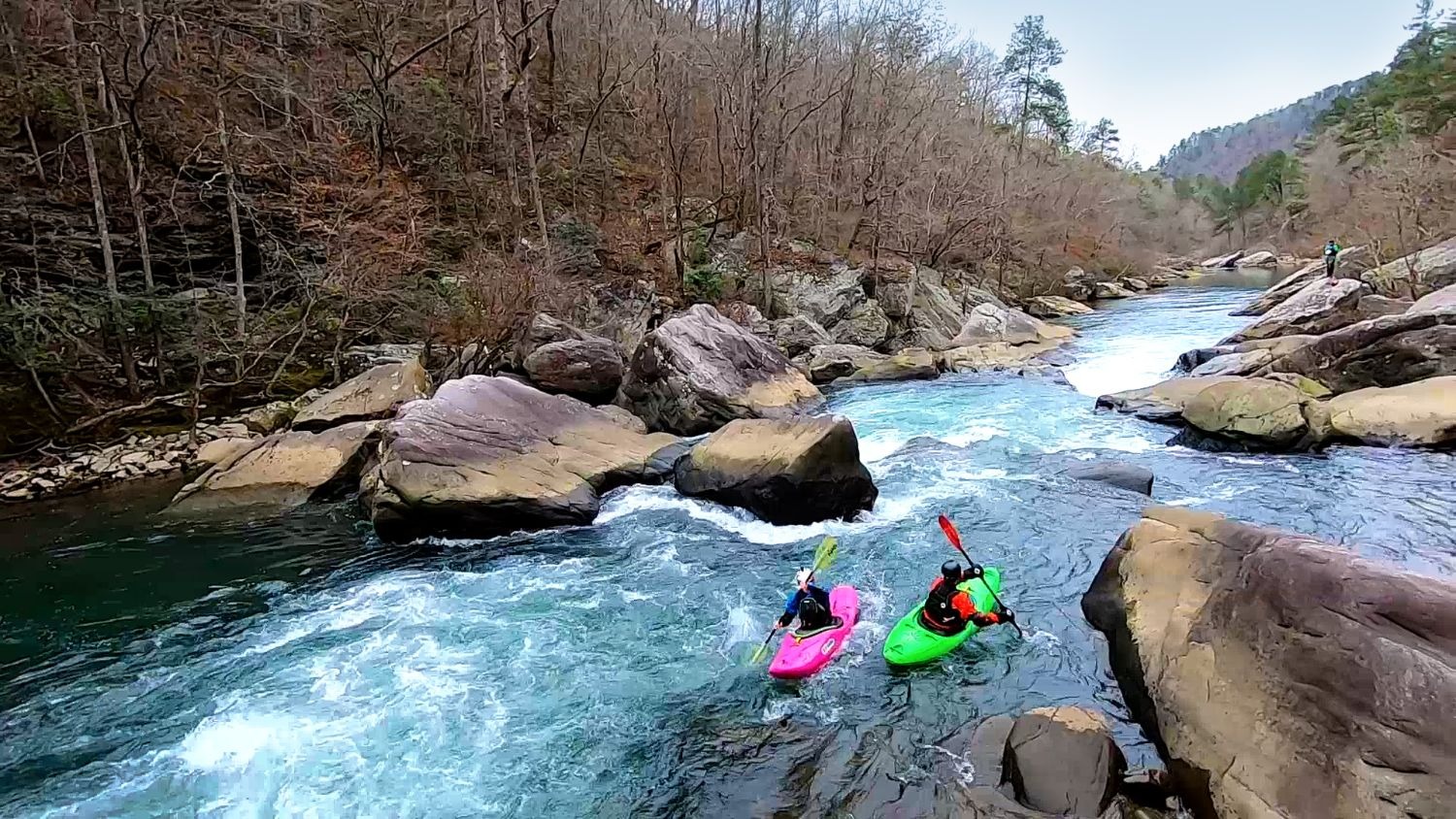 River by speaking to the Fort Payne city council and mayor about the benefits of such a study and designation. We have also received new letters of support from state representative Ginny Shaver, the Weiss Lake Improvement Association, and the Native Fish Coalition.
As other southeastern states like Florida move toward designating their outstanding rivers, Alabama's should not be left behind! If you haven't done so already, please take a moment to support this effort by signing the petition at www.KeepLittleRiverWild.org.
The relicensing of Alabama Power's R.L. Harris Dam on the Tallapoosa River continues, and in late August FERC sent the utility an Additional Information Request asking the company to provide more information about how it might add a high-level intake to draw warmer, more oxygenated water through the to-be-added continuous minimum flow turbine, which could raise dissolved oxygen levels and benefit aquatic life.
ARA met with our partners in September to discuss the potential impacts of Alabama Power's proposed pumped storage hydropower project that could be built at Chandler Mountain, outside of Gadsden in the Coosa watershed. This project is still in the feasibility study phase, but if the utility moves forward, it could drive to extinction an already endangered freshwater mussel, the Canoe Creek clubshell. New dams on the already fragmented and overstressed Coosa River system are not welcome! Alabama Power must file a progress update with FERC in early 2023.
The Alabama Rivers Alliance participates in a number of national coalitions, including River Network, Clean Water for All, Clean Water Network, and the Hydropower Reform Coalition. We sign-on to letters of support and action alerts on issues that our national partners recommend, and we pass along these opportunities to other Alabama groups who are part of our Alliance. Some of the following updates are from our national partners.
CLEAN WATER ACT UNDER THREAT IN SACKETT v. EPA CASE
In early October, the Supreme Court heard oral arguments in its first case of the term, Sackett v. EPA, which centers on the question of what waterways and wetlands are protected under the Clean Water Act. The government's position — and that of the environmental community — is that we should decide which wetlands the Act protects by considering the goals of the Act (to protect water quality) and the science (the degree to which wetlands are connected to other waters). The Sacketts want the Court to rule that the Act only protects wetlands that are physically indistinguishable from navigable water bodies, thus severely limiting the scope of the Clean Water Act, even more so than the Trump Administration's "Dirty Water Rule."
During oral argument, the Justices asked questions of all parties in an attempt to discern where they should "draw the line" for what waters are protected. Although a more expansive interpretation of what waters must be protected seems very unlikely because of the conservative majority on the court, some of the conservatives did push back on the severity of the Sacketts' proposed deregulatory interpretation of the Act.
As one prong of environmental groups' collective advocacy in the face of the threat posed by the Sackett case, ARA joined an amicus brief filed by our partners at Southern Environmental Law Center asking the Court to uphold the scope of the Clean Water Act and now remove federal protections from crucial waters. A decision from the Court is expected in early 2023.
WATER RESOURCES DEVELOPMENT ACT
Last week, the House of Representatives sent the 2023 National Defense Authorization Act (NDAA) to the Senate floor for consideration. The legislation, which passed the House 350-80, included this year's Water Resources and Development Act (WRDA), the biannual legislation authorizing billions of dollars for water infrastructure projects through the US Army Corps of Engineers.
The bill also contains a number of climate and environmental justice provisions: cost-sharing provisions for territories and tribes to avoid undue financial burden, directions for all US Army Corps of Engineers districts to employ tribal liaisons, technical assistance for feasibility studies for economically disadvantaged groups, advance payment authorization for victims of natural disasters, incorporating climate resilience into planning of projects, and more. It is expected to be up for a vote in the Senate this week.
FEDERAL ACTIONS ON PFAS "FOREVER CHEMICALS"
Earlier this month, EPA issued a memo to the states providing guidance on addressing industrial discharges of PFAS through the existing Clean Water Act permitting system, as well as through pretreatment and monitoring programs. This strong guidance makes clear that state agencies, like ADEM, can and should use NPDES discharge permits to protect people and the environment from the toxic effects of PFAS. You can read SELC's analysis of the EPA guidance here.
EPA has also proposed to designate two PFAS compounds–PFOA and PFOS–as hazardous substances under the Comprehensive Emergency Response, Compensation, and Liability Act (CERCLA, also called "Superfund"), which is a critical step to ensure cleanup of these toxins before they contaminate more drinking water sources. This is one of a series of actions EPA outlined in its PFAS Roadmap. EPA has yet to announce national primary drinking water standards for PFOA and PFAS.
In Alabama, a paper published by Auburn researchers earlier this year evaluates the distribution and mass transport of PFAS in Alabama's surface waters, showing that "Alabama is a particular hotspot for PFAS" and analyzing PFAS throughout each of the major river basins.
CONGRESSIONAL BRIEFING ON WATER AFFORDABILITY
The Water Equity and Climate Resilience Caucus hosted a briefing on Water Affordability in November. You can view the recording here. The briefing focused on addressing the nation's water affordability crisis by establishing a permanent, national low-income water assistance program, and featured speakers from the Caucus, We The People Detroit, Earthjustice, Community Water Center, and the US Water Alliance.
CLIMATE AND ECONOMIC JUSTICE SCREENING TOOL RELEASED
The Council on Environmental Quality (CEQ) released its version 1.0 of the Climate and Economic Justice Screening Tool (CEJST) in late November. The purpose of the CEJST is for federal agencies to use it to identify "disadvantaged communities'' that should benefit from the programs covered by the Justice40 Initiative. You can explore it here.
Following robust public comments on the beta version of the tool, CEQ made several changes from the beta version. A new dataset is included using a climate-adjusted model that projects flood and wildfire risks. Historic underinvestment and redlining are now represented in the tool as well, along with a "lack of green space" indicator, lack of indoor plumbing, underground storage tanks and releases, among others.
TAKE ACTION NOW + NEXT STEPS
As I mentioned above, set a meeting with your elected officials

before

the legislative session begins in March.

Click here

to find out who represents you,

then click here

to find their contact information.

Register for Water Rally! Join ARA and our partners for the annual gathering of clean water advocates March 24-26 at Camp Beckwith in Fairhope Alabama!

Click here to learn more

.

Support ARA and all our work throughout the year with an end of year gift. Click here to donate now.

Click the icons below to share this policy update on social media or via email with your network, friends and neighbors!